HI
From The New York Times :::
November 30, 2005 The lights are low, the skaters are wearing spandex and Gloria Gaynor is hollering about her determination to survive. If you squint - or had enough to drink - you can almost see the ghosts of Andy Warhol, Halston or a teenage Brooke Shields, wobbly legs rolling in endless circles at 3 a.m. as a spangled beauty descends from the ceiling through a cloud of smoke.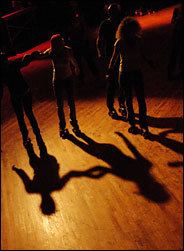 Image by Robert Stolarik for The New York Times

Some of the people in the crowd have been coming for decades to the Roxy on West 18th Street, which is now the only roller rink in Manhattan. There are the old-timers at the Roxy, such as Bladie Flowness, who has dreadlocks and a dyed beard and sails against traffic doing tai chi in multicolored Bedouin pants. The celebrities may be gone and the punishing door policy is no more, but Wednesday night at the Roxy is little changed since the late 1970's, when roller disco reigned supreme and this former truck warehouse on the industrial edge of Chelsea was the center of the nightclubbing universe. In a city obsessed by the newest clubs with the most secret addresses, the Roxy has outlived every one of its fabled predecessors - Metropolis, Studio 54 and Xenon - becoming the grande dame of the city's big-box nightclubs. It also remains the only roller rink in Manhattan, surviving the dozen or so skating palaces that thrived around the time Olivia Newton-John and Gene Kelly skated through the ridiculous splendor of "Xanadu."
Across the country, traditional roller skating is experiencing a bit of revival, thanks to new films like "Roll Bounce," which showcases 1970's-era skating, and two more Hollywood films in the works that devotees hope will lend more sizzle to this old-school art form. "To the younger generation, roller-skating is entirely new," said Chuck Best, president of the World Skating Association, which has 40,000 members and sponsors competitions across the country. "They're the ones adding gymnastics, back flips and all these crazy moves."
Except for a brief hiatus in the mid-1980's, when roller disco succumbed to in-line skating, the Roxy has been a mainstay, drawing a motley crew of unapologetic skaters who stuck to their four-wheelers through the fickle years. On any given Wednesday, the die-hards are still there on West 18th Street doing their pirouettes, S-curves and, when the music slows and the lights dim, the couples-only interludes that bring together strangers, hand in hand, for languid promenades. The possibility of romance flits through the air, but more often it is the camaraderie of aging baby boomers and self-identified disco fools who have been skating side by side for decades.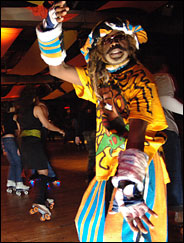 Image by Robert Stolarik for The New York Times
There are the old-timers, like Bladie Flowness, who has dreadlocks and a dyed beard and sails against traffic doing tai chi in multicolored Bedouin pants, and Charlie Zarett and his daughter, Meredith Weiss, 35, who first came here as a 9-year-old and who has rarely missed a Wednesday since. Then there are the newcomers like Anthony Rodriguez, 21, an auto mechanic from the Bronx who recently discovered the thrills and unavoidable spills associated with jam skating, an emerging style that takes its cues from break-dancing and hip-hop. Sprinkled amid the daredevils and the divas are the "brown skaters," newbies on rented brown wheels who have come for a friend's birthday party, and who usually go home with bruised knees, never to return again.
Although acrobatic jam skating is on the rise, the Roxy crowd prefers the old-school dance style, powered by disco and rhythm and blues, with its graceful glides, spins and jelly-limbed leg work. The regulars are an eclectic mix of New Yorkers and suburbanites; advertising executives, postal workers and flight attendants who know one another by their first names but almost never socialize outside the rink. "Some of us are millionaires and some of us are nearly homeless, but we never talk about what we do for a living," said Erica Ferrari, 25, a camerawoman, who began skating around when she learned to walk. "It's all about the skating." Like most everyone there, Ms. Ferrari's love for roller-skating borders on the obsessive. As a child she almost never took off her skates, even when quads were uncool, and her mother still refers to her skates as a vestigial organ. "Growing up, my roller skates were my blankie," she said.
To Ms. Ferrari and her brethren, the Roxy is their church, a hallowed space that brings together like-minded souls who believe in skating's redemptive power. She and others describe the circular movement, the music and the laid-back atmosphere as meditative, even spiritual. "You're orbiting each other but at the same time it's a solitary experience," she said. "It's like swimming in a school of fish. It's centering, and joyful. For a lot of us, if we skip a week, we don't feel right." Among the newly converted is Ooana Trien, 27, a theater director and former club promoter from Hell's Kitchen who recently began stumbling through the joys of a pursuit that many still dismiss as comically retro. "This is what New York nightlife used to be," said Ms. Trien, deploring the clubbing scene's continuing love affair with celebrity D.J.'s, underfed models and $10 martinis. "It's diverse, it's theatrical, it's improvisational and it fosters a sense of community."
Many skaters can breathlessly recall the Roxy's golden days, when the place drew its clientele and cachet from Studio 54 after that club closed in 1980. Six nights a week, Mick Jagger, Flip Wilson or Cheryl Tiegs could be spotted rolling around in polyester and tube sock couture and the velvet rope was a merciless divider between the fabulous and the plebian. "It was pure celebrity," said Suzanne Maxx who was a teenager at the time but got a job there by pretending to be much older. "But it was also about creativity, freedom and breaking down boundaries." Back then, the Roxy had three separate rinks interconnected by ramps, and every night featured a different theme: togas, pajamas, a Las Vegas extravaganza featuring roulette wheels and slot machines and a circus night, where the guest star was a live elephant. A restaurant would serve breakfast at dawn. The pyrotechnics are gone and there is just one rink now, which doubles as a dance floor on Saturday nights, a staple on the gay clubbing circuit.
As art galleries continue their invasion of west Chelsea, there are rumors about an impending sale of the building, but Eugene DiNino, the Roxy's owner, insists that skating is here to stay. "It's just propaganda from other clubs," he said. "We still have four years left on our lease." Whether it's nostalgia or the primordial lure of spinning in circles, roller disco appears to be drawing a new crop of adherents. Although he had already suffered through several humiliating falls and was moving like a newborn fawn with one hand on the railing, Dan Kolodny said he would be back. "I haven't done this since I tried my sister's Strawberry Shortcake skates as a 10-year-old," said Mr. Kolodny, 26, an actor from Morningside Heights. "I've never felt less sexy in my life. But I'll be back."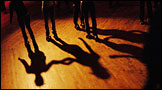 click image for the slideshow!

The New York Times www.nytimes.com